Your home has been on the market for a month or two now. It's had some showings, but no one has made an offer. You may have even received feedback saying it's overpriced. Now, your real estate agent is suggesting you lower the price. If you're like most home sellers, the thought of making less money off of the sale of your home probably puts a knot in your chest. While pricing your home competitively is a whole blog post of itself, we want to point out that not being proactive and letting your home sit on the market could cost you even more money than a single price reduction, because buyers mentally devalue your home the longer it stays on the market. So, it's best not to hold out for too long. But you may be wondering, what happens when my home's listing price is reduced?
We can't speak for all agents in all markets, but we can share what we do.
First, your home's price will be updated in the Multiple Listing Service (MLS). This triggers multiple events to occur:
Any buyer that has been set up on an MLS portal that has parameters matching your home (and has price reduction notifications turned on) will be notified of the price change. Many receive email notifications, usually once a day or once a week. Some only receive their notifications when they sign into their portal. Either way, they will be made aware of the change.
The new price will be pushed to third-party websites and apps. That includes the big wigs like Zillow, Trulia, and Realtor.com, as well as single agent websites. Not every site gets updated instantly. Bigger sites usually take 15-30 minutes. Smaller sites, like ours, can take 24 hours because our service provider puts a limit on how often they update their systems to prevent overload.
Third-party websites will send out notifications to users who have set up accounts on their websites. Again, how quickly they are notified will depend on their settings and how often the sites update. Usually, it's within 24-48 hours.
Next, we notify the real estate agents that have already shown the home, in case their clients are still looking. Sometimes a price reduction is just what a buyer needs to feel motivated to return to a listing. The listing may also now qualify for other clients the agent is working with and this is a good way to bring it to their attention.
We follow up that communication with an email to our list of local real estate agents. This can often be more effective than relying on notifications from third-party websites. It's also a good way to say, "Hey, don't forget about our listing!" If we know of an agent working with a buyer viewing similar homes, we'll also make a point to suggest the home to them through a phone call or text message.
After that, we manually update the listing price on the websites that aren't connected to a feed, and generate freshly printed marketing materials with the new price. Of course, not every community allows flyers and not every listing fits every website, but we complete these tasks when applicable. We may also choose to do additional paid advertising depending on the online history of the home.
Finally, we wait. If the listing price has been lowered to a competitive number, we should see an uptick in activity and showings scheduled over the course of the next week or two. An exception may occur if the home is in a price range that isn't selling as quickly as others (ex. $500,000+).
Fair market value is determined by similar homes that have recently sold. A price reduction isn't always triggered by a home entering the market overpriced. Sometimes a listing sells after a home comes on the market, requiring an adjustment in the price of one or more other listings that remain. That's why we constantly monitor community activity.
If you have any questions about listing your Wilmington area home for sale, we'd be happy to discuss the services we provide. Don't hesitate to contact us. We also invite you to try out our automated home valuation tool to get a general idea of the fair market value of your home.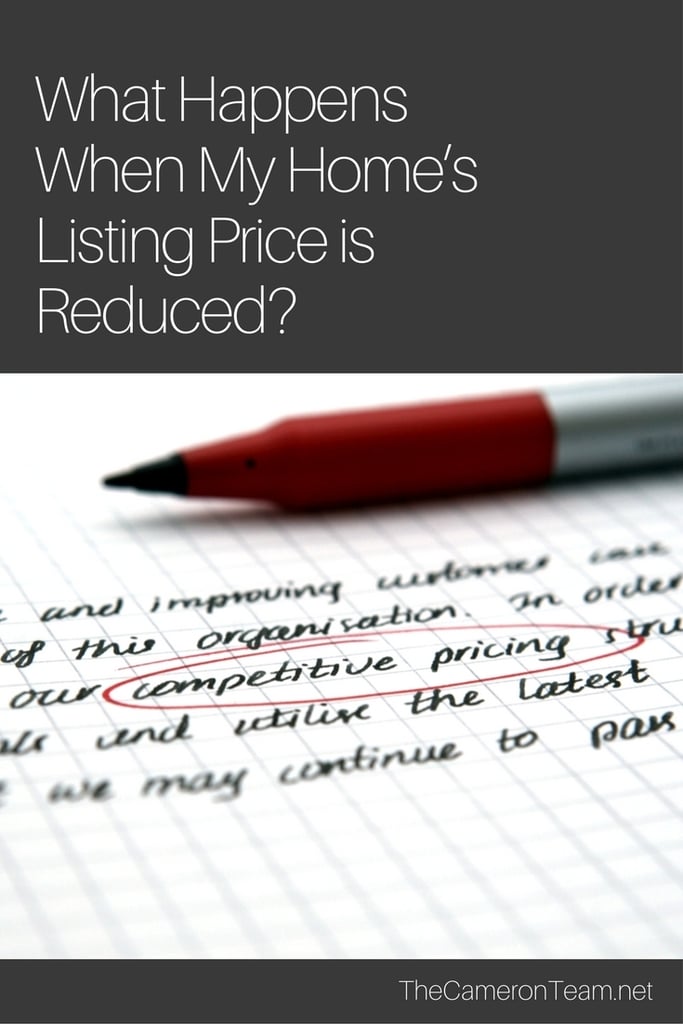 [the_grid name="Home Seller Tips"]