NOTE: Doh Cones recently announced they are closing their doors due to damage from the hurricane still causing issues for them.
Are you one of those people who loves to sneak a spoonful of cookie dough when you're baking? How many of us as kids could eat half of a container before we found out the risks of E.coli and Salmonella?
*Raises Hand*
I don't know about you, but I've tried the edible cookie dough alternatives – hummus dip and prepackaged edible cookie dough – and I loved all, but I am super excited about Mayfaire Town Center's newest business – Doh Cones.
Doh Cones is like an ice cream shop but instead of scoops of ice cream, you get scoops of cookie dough in all different types of flavors. They have a lot in their flavor cache but only have a certain number each day. Here were the flavors from their opening day:
You can enjoy the dough multiple ways. For starters, there are cups, cones, sundaes, and ice cream shakes.
Because it was my family's first time there, we went for the basic cup. Pictured below in clockwise direction from top is Samoa, S'Mores, Sugar, and Princess.
They were all good, but I must admit that Sugar was my favorite, because it reminded me of baking cookies at Christmastime.
You can pull up a chair right inside Doh Cones. There's a bench and chairs, or tables for larger groups.
If you're trying Doh Cones for the first time, I highly suggest you go with one scoop. I love sweets, but I found that a little goes a long way. And I must warn you, the kids will feel the sugar rush.
Doh Cones is kid approved! You can find it across from Sola Salon at:
820 Town Center Drive Suite 140
Wilmington, North Carolina
Have you tried out Doh Cones Edible Cookie Dough yet? What did you think?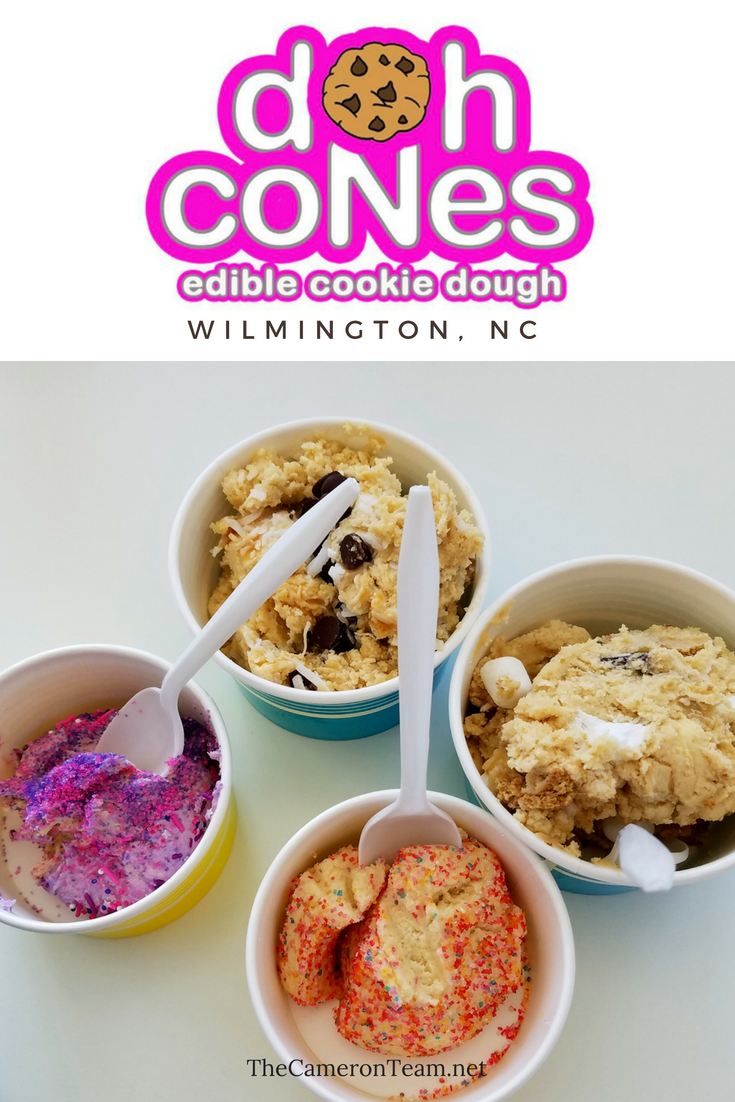 [the_grid name="Area Info"]