Curb appeal has long been hailed by REALTORS® as key to attracting buyers, and thus a major Return on Investment for sellers. It is what obviously, and strikingly, makes your home's first impression. Welcoming and reasonably low maintenance, good curb appeal expresses the "personality" of the house to invite instant connection from potential buyers. It is coherent, color-coordinated, and easy to tend without giving up every weekend. There are a number of low maintenance curb appeal ideas that will add beauty and value to your house for sale.
Paint
The house itself, the central point in that first impression, should be freshly painted. Light neutrals are a safe choice and appeal with their brightness, but this does not have to mean white. A variety of both warm and cool colors fall into the "neutral" category today and can easily be matched to complement a color scheme in your landscaping or neighborhood. Finishes such as semi-gloss and satin are durable and easy to clean.
Darker trim goes best with light walls to show off the house's features, giving it an interesting "face". Classic black or blue is always an option, but other colors that have trended steadily may add extra character to a plain exterior. The front door is the place experts say to be bolder with color, since it is a focus point and needs to draw people in. A cherry red, canary yellow, or teal door can be part of an inviting vignette as people enter.
Natural Landscaping
Lawns are work for homeowners and will not appeal to some buyers, although there are many who will want to have and use a lush, healthy lawn. Replacing it can be a helpful curb appeal improvement, if it is already unhealthy or your area suffers drought. Gravel and native plant cover are easy substitutes. If your home has a lawn, make sure that it remains full and well-groomed while the house is listed.
Wherever and however you do planting, native plants are the best choice. Naturally able to thrive, they will be hardy and attractive without pampering. They are also likely to be reasonably inexpensive if you want to add plants before you list. Natives support your local ecosystem, strengthening the habitat for other species. It is easy to find online advice about plants native to your area and right for your planting environment.
Other Landscape Elements
The addition or improvement of other elements can add to your home's curb appeal like tasteful accessories on clothing. Mulch in areas that can receive it is a positive choice in several ways, as it supports the health of your plants, eliminates the need for weeding, and can be chosen for color to coordinate with the house or garden.
Often another significant part of a potential buyer's first view, the driveway should not look damaged or neglected. If you need to beautify your driveway curb appeal, there are inexpensive and low maintenance materials that will look good and perhaps even increase the value of your home. Based on budget and climate, options include gravel, concrete, and asphalt, which are all neutral in appearance, easily maintained, and durable. Pavers are more expensive but more versatile, allowing for a variety of brick or stone and many ways to pattern them.
Other small but impactful improvements include good outdoor lighting, with solar lights being a popular choice. It may also be the perfect time to update the mailbox, welcome mat, house numbers, or any other small, decorative elements that give your home its character. Giving the outside of your home the same consideration you give to staging the inside is tried-and-true advice before listing. The house can only gain in appeal and value by having a neat, well-landscaped outdoors that looks beautiful and easy to care for.
NOTE: This is a guest blog post from Homelight via Mackenzie Kirk.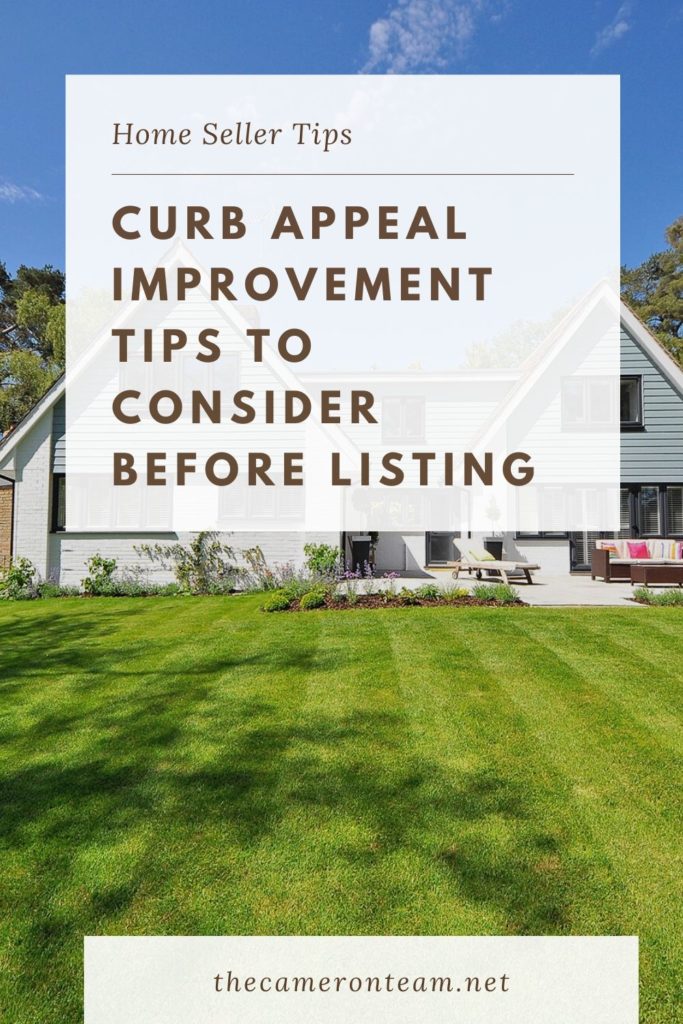 [the_grid name="Home Seller Tips"]