There are multiple reasons why someone wouldn't want to decorate with the traditional color of fall – orange. Maybe they don't like the color. Maybe their home's base color palette doesn't mesh well with it. Maybe they're looking for a refresh. Whatever the reason, a little bit of craftiness can solve the issue. Here are 8 fall DIY projects that aren't orange.
1. DIY Succulent Pumpkin Centerpiece
This simple project from Sand and Sisal brings some greens, blues, and reds to your fall home decor. It's designed to allow you to reuse the plants (no hot glue here!), so you can swap them out for a seasonal-appropriate planter once fall is over.
2. DIY Apples Canvas Wall Hanging
This fall apples wall hanging by Heart Filled Spaces is made with a drop cloth and transfer paper. The tutorial gives you the print file for free and tips for avoiding common mistakes during the transfer. Once completed, it'll give your home a charming farm house feel.
3. Modern Metallic Pumpkins
Adding color to your fall home decor doesn't mean you need to be stuck with the bright oranges, yellows, and greens that are so common in store-bought decorations. These metallic drip pumpkins from Taryn Whiteaker show that rose gold and bronze are perfect for fall too. Plus, they're super easy to make.
4. DIY Painted Teal Pumpkin Sign
The Teal Pumpkin Project helps raise awareness of food allergies and encourages people to hand out non-food treats on Halloween night. Mama Dares to DIY has created a tutorial for painting a teal pumpkin sign that you can hang on your front door and reuse every year. Once completed, don't forget to add your home to the Teal Pumpkin Project Map so Trick-or-Treaters know to visit your home.
5. Vintage Pyrex Blowing Leaves Painted Pumpkin
If your kitchen is your haven and you love vintage Pyrex, this is the DIY project for you. Tanya at Dans le Lakehouse shows how to create a Pyrex Blowing Leaves painted pumpkin that looks just like the original print. A few of these would look adorable on a 3-tier countertop display or the print could be adapted to a front porch display for the Teal Pumpkin Project.
6. DIY Buffalo Check Farmhouse Sign
Prints featuring fall leaves, orange plaid, and Halloween symbols are common this time of year, but not everyone wants to darken up their home decor. If you're looking for something bright and refreshing, try including buffalo check prints. Faeries & Fauna has an easy tutorial for creating buffalo check farmhouse signs for fall. Don't worry about trying to replicate the graphics – they provide free printables.
7. DIY Fall Pumpkin Topiary
Spruce up your front entrance with a clean looking pumpkin topiary made with white Cinderella style pumpkins, eucalyptus, and grape vine leaves. This tutorial from Inspiration for Moms uses faux pumpkins and greenery so you can keep using it from year to year. Of course, if you want the natural smell of eucalyptus, you could probably sneak in some of the real stuff.
8. DIY Fall Gnomes
With this tutorial, we kind of bend the "no orange" blog rules. These little guys are just too cute to share and, technically, Busy Being Jennifer includes a black-hatted gnome. So, it can be any color you want it to be.
Do you have a great fall DIY project that isn't orange? Share it in the comments!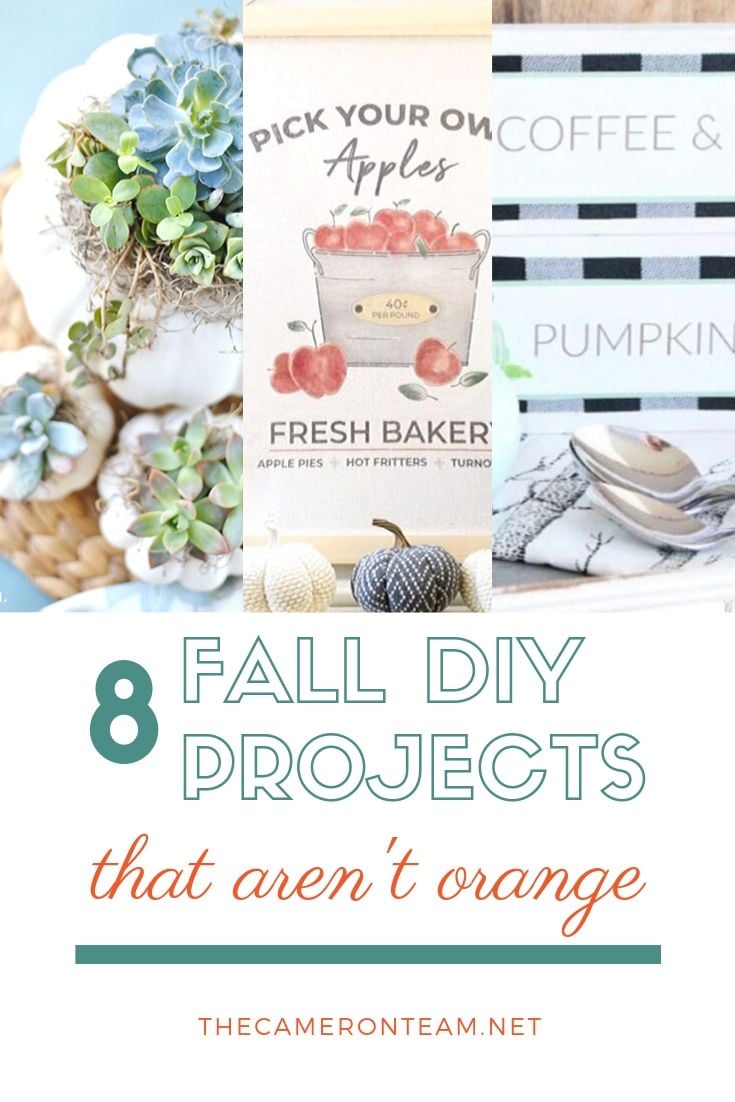 [the_grid name="Homeowner Tips"]