Want to increase your home's value before you put it on the market? A study from the Department of Horticulture at Michigan State University showed that good landscaping can increase a property's perceived value by 5% – 11%, and buyers are more likely to choose a home for having good landscaping over poorly landscaped competitors. So, don't just focus on interior projects – also consider your home's yard.
Landscaping is an investment that can really pay off. Not only does landscaping increase your home's perceived value instantly, it increases the property value over time, because mature landscaping has the highest perceived value. For those of you not ready to list your home and are just considering it for the future, that means now is the best time to get started on landscaping if you want the biggest bang for your buck.
Here are some tips for making your landscaping project as lucrative as it can be:
1. Design for Your Home
It's easy to fall in love with a certain style of landscaping, but you want to make sure that it fits your home. If you have a Modern style home, a classic English garden with its rolling design and ode to ruin will stand out like a sore thumb. Instead, you should install a Contemporary garden where the hardscaping materials are the focal point and the plants are supporting players. Just keep in mind that the lines and feel of your home should be reflected in the garden. This is important when you start laying the foundation (the hardscaping) of the landscaped areas around the home.
In addition to choosing a landscaping style that fits your home, make sure you choose plants and trees that fit the home. If you have a brick ranch, the incredibly tall growing Italian Cypress Evergreen Trees will look silly growing next to it and will likely make the home look smaller. If you have a two-story home that has tall architectural lines, the Italian Cypress may be a great choice, depending on your home's location.
2. Make Choices According to Your Zone and Lot
It's important that you always choose plants, trees, and shrubs according to your USDA Hardiness Zone. Otherwise, your plants will not thrive. Just because your local garden store sells a plant that fits your hardiness zone, that doesn't mean it will grow well as soil can affect its success. In Southeastern North Carolina, soil varies from rich farm to sand depending on how close a property is to the Atlantic Ocean and Cape Fear River. It's acidity level can also depend on the type of trees that grow on and around the property.
You should then be choosing plants according to the amount of sunlight that hits areas of your yard. This can vary from one section to the other and is affected by the trees surrounding the home. We suggest observing your yard for a day or two just to see how the sunlight shifts throughout the day. Every plant sold is categorized as Shade, Partial Shade/Sun, and Full Sun. Here are how those terms are broken down:
Shade: Less than 2 hours of direct sun a day
Partial Shade: 2-4 hours of direct sun
Partial Sun: 4-6 hours of direct sun
Full Sun: 6+ of direct sun
Make sure you buy shade plants for shady areas, partial shade for partial shade areas, etc. If you want to really increase the chances of your plants thriving, consider buying native plants.
3. Plan for Year-Round Beauty
Flowers bloom in different months and for different lengths of time, and some shrubbery keeps its green in the winter better than others; therefore, plant a variety of specimens with different peak times so your yard looks great throughout the year. Some things to keep in mind…Bulbs give an awesome pop of color in the spring, but only bloom once. We can grow palms on the North Carolina coast, but they turn brown in the winter. Lantanas and Verbenas, which are popular in our area, bloom for a long time and produce flowers that butterflies love but die back during the winter leaving brown stems (cut back and fill the area with annuals if you're in zone 8+). Some shrubs, like Burning Bushes, turn a beautiful color in the fall, which can add color to your yard during the colder months. Whatever plants you choose, just make sure they're placed near companions that will make up for their shortcomings.
4. Mulch Your Flower Beds
Not only does mulching reduce weeds and help retain moisture, but it also makes flower beds look clean and uniform. Mulch doesn't have to be an expensive investment, especially if you go with pine needle mulch (popular in the Carolinas) or natural wood chips. Just make sure you don't mulch more than 3" deep (including old mulch that hasn't decomposed) and don't forget to refresh it every spring (after the weather has warmed up) to keep the flower beds looking great.
5. Edge Your Lawn
Even the most well-grown lawn can benefit from the good impression clean lines produce. So, consider taking the time to edge your lawn. Give attention to any area that has an existing barrier, like driveways, sidewalks, walkways, curbs, garden beds, etc. Don't try to force an edge where the lawn naturally blends into trees and dirt.
6. Create a Backyard Oasis
While curb appeal is often spoken of when discussing preparing a home for the market, sellers should make sure not to neglect the back yard. Speaking from experience, a neglected back yard can be a deal breaker. It's one of the reasons I was able to obtain my own home for a good price. The yards were nothing to brag about. While the front yard had azaleas and a walkway, the back had basically nothing but some neglected shrubs. Other buyers were not impressed. I, on the other hand, saw it as a blank canvas to create something beautiful, but I have experience working in a greenhouse. Most buyers do not, and they'll shy away from the work. So, if anything, create the foundation of a backyard oasis – a patio/deck and basic garden beds. That way, they don't feel like they're starting from scratch.
How Much You Should Spend
The general rule is to spend 5%-10% of your home's value on landscaping. For a $200,000 home, that's $10,000-$20,000. But we all know that can be a lot for some families. Just don't let the industry standard deter you from doing any improvements. Even low-cost improvements, like new flowering plants along a home's foundation and fresh mulch, can make a big difference in the curb appeal of a home.
It takes a buyer 15 seconds to develop an opinion about your home. Paying attention to the exterior details of the home will improve a buyer's perception of the care you've provided to the interior and can increase your chances of a higher offer. Who doesn't like more money?
Have a money-saving tip for improving curb appeal and completing landscaping projects? Leave it in the comments!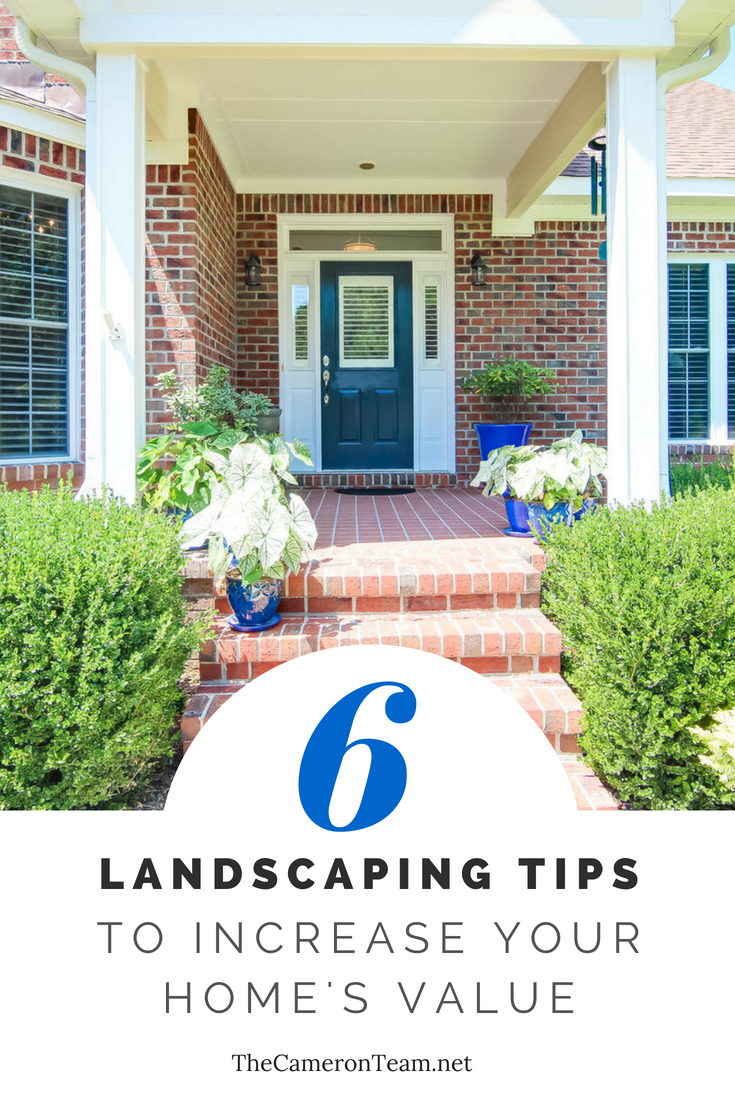 [the_grid name="Home Seller Tips"]