Do you desire to give your bathroom an upgrade, but want to skip the traditional builder-grade vanities? Think outside the box! You don't need to stick to the displays at the local home improvement store. There's more than one way to create a vanity, and we've shared some of our favorites below. For these, you do need some carpentry skills or know someone who does, because these projects require some tools to manipulate the original piece.
1. Dining Room Buffet to Bathroom Vanity
Angie at Postcards from the Ridge took an old dining room vanity and repainted it to give it a distressed look, and applied water resistant varnish to the top. She then hired a carpenter to cut the hole for the sink and modify the middle drawers to fit around the plumbing. The result is a vanity with lots of storage and a vintage look. See the project here.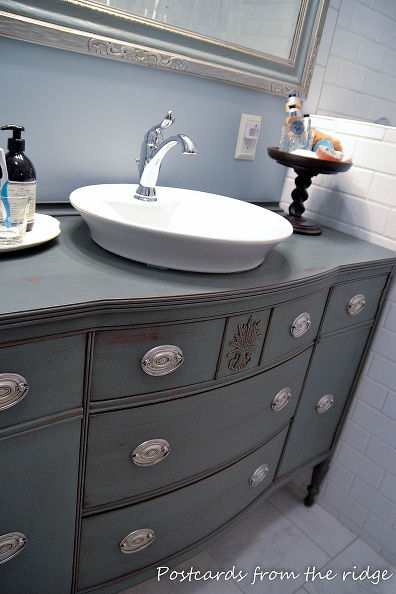 2. Headboard and Footboard to Bathroom Vanity
Headboards and footboards have been repurposed into a lot of things – tables, gates, picture frames, sliding doors, etc. Sherry Kunkle decided to try something new by taking an old set and repurposing them into a bathroom vanity. The result is something that looks like it should be in a classic old farmhouse. Very neat! See the project here.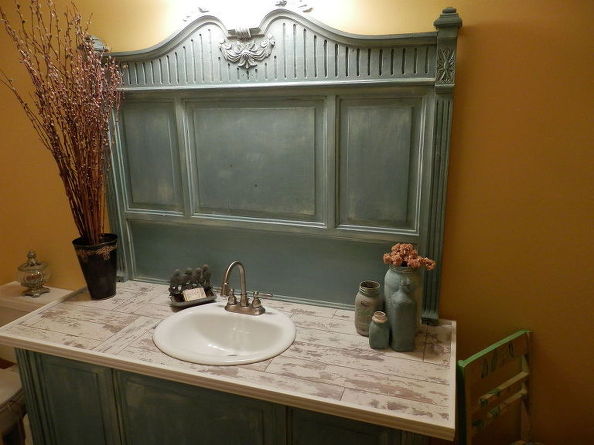 3. Nightstand to Bathroom Vanity
Jamie at Southern Revivals wanted a vanity that looked custom and like furniture, but she had a small bathroom. Her solution was to repurpose a nighstand. So, she removed the original molding on the bottom, attached legs to make it the correct height, added new molding on the bottom, painted it with a chalky finish, and installed the sink. The results are pretty marvelous! See the project here. Note: You may need to check out later updates to see how she added the sink.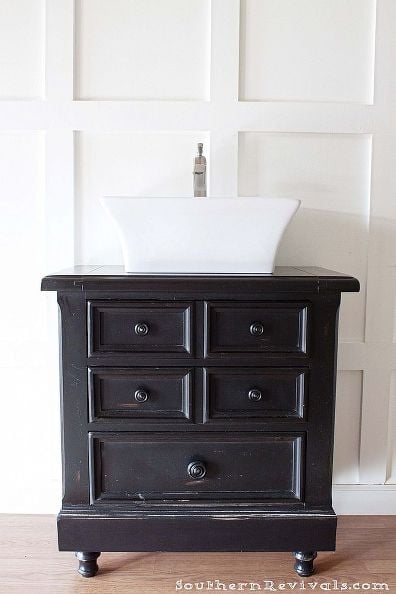 4. Open Dresser to Bathroom Vanity
Angela at A to Z Custom Creations had a favorite old dresser that she couldn't part with, so she repurposed it into a bathroom vanity. She even shortened one drawer so it can still be used. The bottom of the dresser sits open, so not only does her tutorial show how she transformed the dresser to a vanity, but how to make the ugly white plumbing look antique. Very neat! See the project here.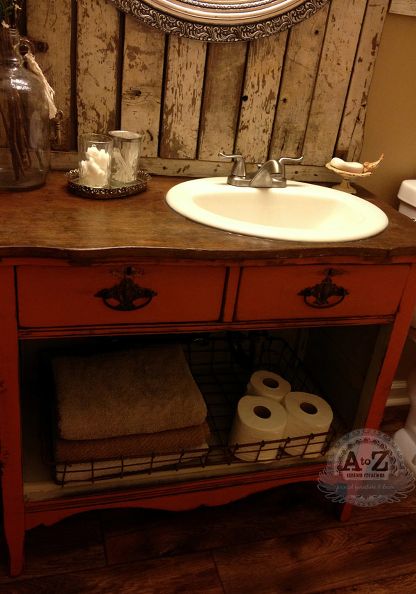 5. Wall Cabinet to Bathroom Vanity
If you want something really rustic looking, check out this vanity from Jamie at Three Scoops of Love. She and her husband took an old wall cabinet, installed a copper sink, attached pipe legs, and added a shelf to create a vanity that looks like it could be from a back woods cabin. What do you think? See the project here.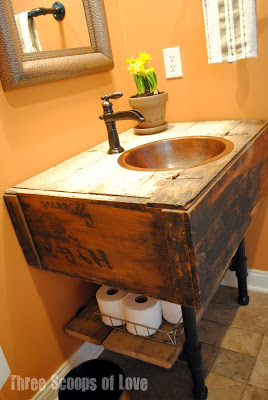 Do you have a similar project? Share a link in the comments below!