Whether you're looking for the perfect spot for Valentine's Day or to make Date Night extra special, these Wilmington, NC, restaurants have excellent food, as well as settings that are sure to leave an impression. Some of them also have options for diners looking for vegan and gluten-free meals. Have your own favorite? Let us know in the comments!
Note: The restaurants are listed by price and then alphabetical.
Valentine's Day Restaurants Priced $$$
Brasserie du Soleil
French Food
$$$ – Menu
1908 Eastwood Rd. #118 (Lumina Station) • (910) 256-2226
All the food at Brasserie du Soleil is delicious but this is the go-to place if your date (or you) are salad lovers. Their made-to-order salads are rave-worthy and well-portioned. They also have great French fries and a dining area with lovely ambiance. However, make sure you verify the menu for the night. They've been known to make a special one for Valentine's Day.
Catch Restaurant
Seafood, Gluten-Free, Vegetarian
$$$ – Menu
6623 Market St. • (910) 799-3847
Catch Restaurant has an excellent reputation for serving quality food in a nice atmosphere. The flavor combinations are to die for, and service is always top-notch. Make sure you make a reservation as they fill up quickly for Valentine's Day.
Manna Ave. 123
American
$$$ – Menu
123 Princess St. • (910) 763-5252
Manna is an upscale restaurant that serves complicated dishes with quality food, which is often locally sourced. The menu changes frequently to accommodate the seasons and special events that happen throughout the week. This keeps it fresh and exciting. Also, if you have special dietary needs, they are happy to accommodate with some notice. It's hard to recommend with an ever-changing menu, but it you can, try the duck!
PinPoint Restaurant
American, Seafood, Vegetarian
$$$ – Menu
114 Market Street • (910) 769-2972
PinPoint Restaurant serves exciting flavors and unique dishes. The menu is limited and updated frequently, but a lot of the main ingredients are locally sourced and seasonal. So, when you eat here, your dollars are staying local, which is very good for our economy. The dining room isn't large but certainly reflective of Wilmington's unique downtown, and the restaurant is a short walk from the Cape Fear River – perfect for a romantic stroll.
Valentine's Day Restaurants Priced $$
Cape Fear Seafood Company
Seafood, Steaks
$$ – Menu
140 Hays Ln., Unit 140 (28411) & 5226 S. College Rd., Unit 5 (28412)
(910) 681-1140 (Hays) & (910) 799-7077 (S. College)
Cape Fear Seafood Company has 4 locations – 2 in Wilmington and 1 over the Cape Fear in Belville. Each location has a history or serving flavorful food and excellent service. They offer a wide variety of seafood, plus juicy steaks. Try the Shrimp & Grits. They are superb with the perfect balance of tomatoes and creaminess! Also highly recommended are the Bloody Mary Oysters. They're a great way to start your meal.
Circa 1922
Tapas, Sushi, Vegetarian
$$ – Menu
8 North Front St. • (910) 762-1922
Circa 1922 is the quintessential downtown restaurant with a lovely historic setting and fine food. Tapas are small dishes, so they're perfect for a pre-show meal or mixing and matching. What has really set Circa apart in recent years is its move toward developing a significant vegetarian selection. It also has a delicious selection of desserts (try the Chocolate Sushi!). Seating is limited, so make those reservations in advance.
Hops Supply Co.
Gastropubs, American, Southern
$$ – Menu
5400 Oleander Dr. • (910) 833-8867
Hops Supply Co. labels itself as a gastropub and while they do serve burgers and sandwiches, don't go thinking this is bar food. The flavors are definitely elevated. Their Chicken 'N Grits dish is delicious with fried chicken tenders, grits CAKES, and collard greens with smoked ham gravy. They also have a nice selection of salads and the BBQ braised short rib nachos are a real treat. The atmosphere is also nice as there are plenty of seating areas with lots of windows and brick.
Indochine
Asian Fusion, Sushi, Gluten-Free
$$ – Menu
7 Wayne Drive/Market St. at Forest Hills • (910) 251-9229
Indochine continues to be one of the most recommended Asian restaurants in town. The serve up Thai and Vietnamese dishes in a colorful, eclectic setting. Because each dish is made to order, they can be cooked as spicy as you wish and a large variety can be made gluten-free. Try the Yellow Curry and Coconut Shrimp. They're yummy! Just be sure to get there early. Indochine does not take reservations.
Niche Kitchen & Bar
American
$$ – Menu
5954 Carolina Beach Rd. • (910) 399-4701
Niche Kitchen & Bar serves quality food in a laidback atmosphere. If you can, try sitting outside on the covered patio, which has firepits and charming lighting. For recommended dishes, try the Shrimp Scampi, Beet Salad, Lobster Mac & Cheese, and Fried Green Tomatoes.
Rosalie's Trattoria
Italian Food
$$ – Menu
5031 Market St. • (910) 399-5769
Rosalie's Trattoria serves homestyle Italian cooking. They have the BEST Fettucini Alfredo. It's incredibly creamy and cheesy – comfort food at its best! Everything is made with fresh ingredients and has lots of flavor. Their dining room isn't very big, so make sure you schedule a reservation…OR if you want to do something at home and enjoy the crowds, they do take-out or you can request a delivery through Surfside Express, Cape Fear Delivery, or Grub Hub.
Tiny note: When visiting, turn on Cobblestone Drive on the right side of the building and enter at the back of the parking lot, or you'll be going against the flow of traffic.
Savorez
Latin American, Seafood
$$ – Menu
402 Chestnut St • (910) 833-8894
Savorez is a small venue with a small menu that packs a huge punch. The food is amazing – flavorful and well-portioned. It's intimate and a little off the beaten path, which is perfect for you if you're looking for something new and unique. Make sure to try the Vegan Rellenos and the Caliente Tuna Tacos.
Steam Restaurant & Bar
Seafood
$$ – Menu
9 Estell Lee Pl. (In the Embassy Suites) • (910) 726-9226
This restaurant has a gorgeous, airy atmosphere with views of the Cape Fear River. They have a variety of locally-inspired dishes but elevate Southern cooking to a whole new level with their Gouda Grits. Their Blue Crab and Corn Chowder is also delicious, as well as their pimento cheese starter. We predict they'll be very busy on Valentine's Day, so make sure to get a reservation.
Valentine's Day Restaurants Priced $
Taqueria Los Portales
Mexican
$ – Menu
1207 S. Kerr Ave. & 29 Van Campen Blvd, Ste. 109
(910) 799-5255 (S. Kerr) & (910) 769-6067 (Van Campen)
The Taqueria Los Portales restaurants are in no way fancy…they just have some of the BEST authentic Mexican food in Wilmington. So, if your date loves tacos, tortas, burritos, fajitas, flan, and the like – these are the restaurants for you. The original Taqueria Los Portales is located off Kerr Ave. near Jade Monkey. The newer location is on Van Campen Blvd. (across from Walmart).
The Sideboard Game Cafe
American
$ –  Menu
4107 Oleander Dr. – C • (910) 444-4755
This is not a traditional Valentine's Day hot spot, but it's a great option for something less casual. Diners can enjoy snacks and sandwiches while playing board games. Check out the S'Mores Dip. It's superb! There's a large selection of board games and card games to choose from. If you're ready to try something new, staff members can help you learn the rules.
Bonus: Little Asia Bistro
Asian Fusion, Indian
$$ – Menu
1051 S. College Rd. • (910) 399-2950
UPDATE: Little Asia Bistro is now open and updating their menu to include more Indian food.
Little Asia Bistro is a hidden gem of Asian Fusion. The owners and chefs are very talented, and have a knowledge of Indian, Chinese, Taiwanese, Thai, and Vietnamese food that is unsurpassed. The portions are generous, and everything is cooked to order. The owner will even cook special dishes if you give her a day or more to prepare. Little Asia would have been included in our main list of 14 restaurants; however, at the time of this post, the owners are taking a break to welcome a new baby to their family, and it's unclear if they'll be open for Valentines Day. Watch their Facebook page for an update.
Have any of these restaurants made your Valentine's Day or Date Night list? Let us know in the comments!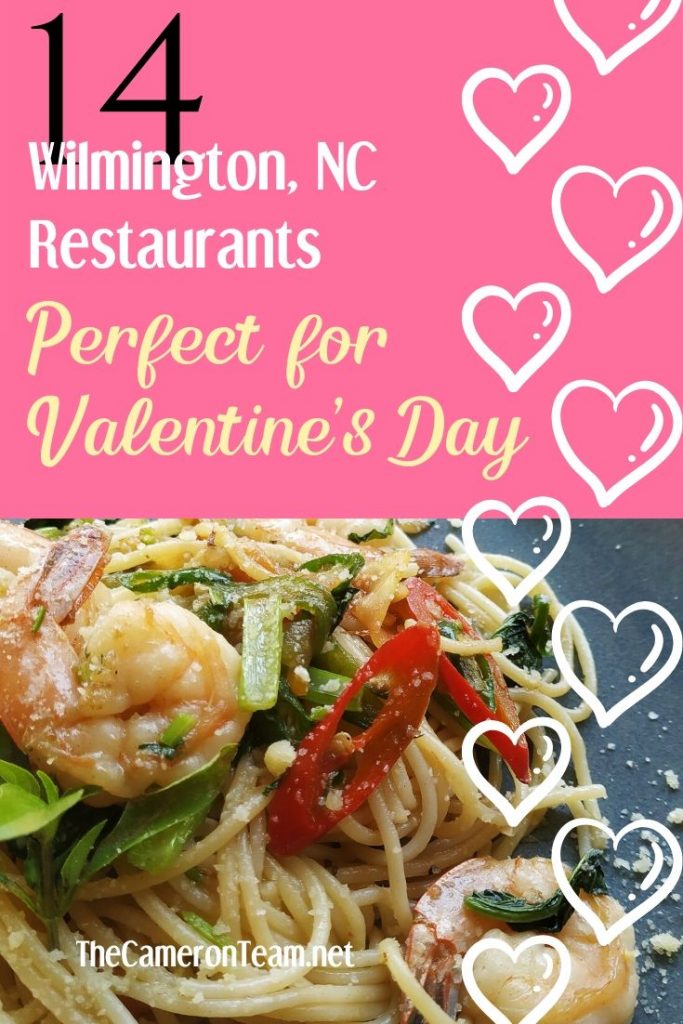 [the_grid name="Area Info"]