It's summer, which means it's time to grab a drink, fire up the grill, and fully enjoy your patio….What? Your patio decor consists of a grill and folding chair? Consider some of these unique home decor products that are sure to bring some fun and function to your outdoor living space.
Please note: The Cameron Team has not been paid or received any other compensation to include any of the products featured on this post, but the author has included affiliate links and content. If you click on a link, they may earn a commission with no added cost to you. It's a high-five for great content!
Does your patio need some added privacy? A low-cost pergola is the perfect foundation for hanging these outdoor cabana curtains that come in a variety of colors and are designed to hold their beauty against wind, rain, and sun. They also feature rust-resistant grommets – so no color bleed!
Globe lights are one of the must-have products for your outdoor patio. They set a romantic party mood and look so much better than a string of Christmas lights. What makes this string unique is the dimmer option. It comes with a remote control with 8 numbered settings, so you can choose the perfect brightness, as well as turn the lights on and off.
Skip the boring cement patio and jazz up your outdoor space with a colorful reversible rug that is made of recycle premium plastic. It's weather resistant, stain resistant, mold and mildew resistant, and easy to clean. It also comes with a jute carrier bag for easy transporting, in case you need a ground cover for a picnic, camping, etc.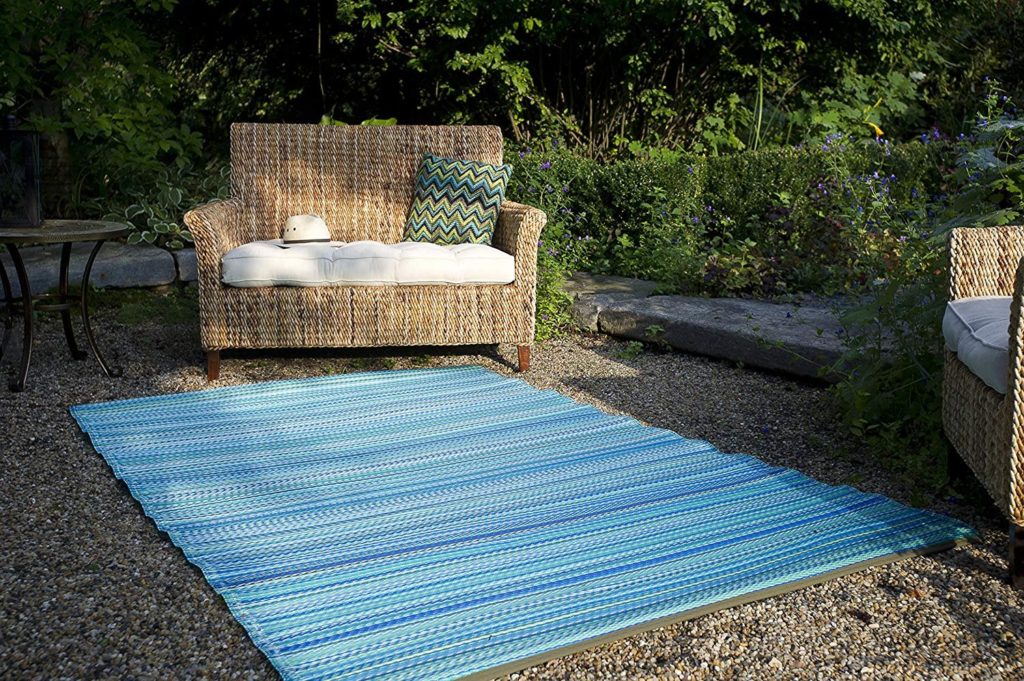 This all-weather bench has 70 gallons of storage space underneath its lockable seat. It accommodates two adults comfortably and is wear and fade resistant. Contents are kept dry and ventilated, making the storage space great for outdoor cushions and decor, gardening hoses and tools, or pet gear and toys.
When you don't have a lot of space, it's nice to have furniture that can pull double-duty – like this all-weather polypropylene resin knitted pouf set that includes a storage table and two seats. The storage table holds 10 gallons and the seats are lightweight, so they can be stacked in the corner. The seats also have durable level tops and could support trays for additional "tabletop" space.
When you have guests over for drinks and appetizers, it's nice to have a little serving station. This wicker cart has a glass top, wine glass rack, four compartments, an ice bucket, two wheels, and two sturdy legs to prevent tipping. The frame is made of steel and the wicker is weather resistant, so you can store it on the patio when not in use.
Add a fun, festive glow to your patio with these solar powered LED pineapple lights. They take 6-8 hours to charge and then will shine for 10-12 hours. They emit a warm amber color and automatically turn off when daylight is detected. No installation needed – just push the ON button and hang wherever you want light.
Every patio needs a splash of color. These hand-painted sea turtles are made of metal and represent the green and turquoise colors of the ocean. Swirls on their backs add movement to their design. They'll be a great addition to your outdoor space.
Invite happy little hummingbirds to your patio with this classy-looking green antique hummingbird feeder. It holds 10 ounces of nectar and has brushed silver accents. Spsst! Don't use red dye nectar, because it can be harmful to the birds. Here's an easy recipe for hummingbird food.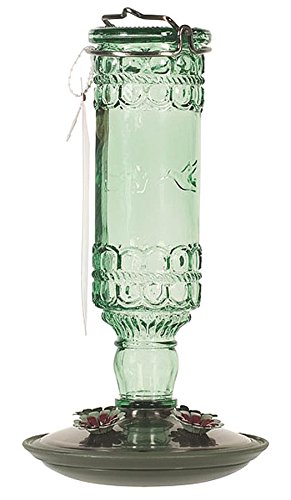 Nothing says "party" like an outdoor clock! Okay, so not really, but it's perfect for gauging when it's time to head back indoors. This clock has a built-in thermometer, hygrometer (humidity), and clock that work on batteries. Plus, the faux stone finish keeps it classy looking.
Citronella candles are helpful for keeping mosquitoes at bay, but they don't always have the prettiest presentation. These marine glass table torches are super stylish and can be filled with mosquito repellent fuel. They come in a set of 3. Cluster them together or spread them around your outdoor seating areas.
Want a unique way to add some accent lighting to the landscaping around your patio? These bubble lights (sold in pairs) are solar powered and turn off when sunlight is detected. For 4 to 5 hours of sunlight, they provide 6 to 8 hours of light at night. They're on the smaller side (8.8") but are very bright.
Vertical gardens have become increasingly popular over the years, especially in outdoor living areas with small spaces. This vertical wall planted is especially unique because it is self-watering. That means the attached drip system provides enough water for days, so you don't have hand-water as frequently. Each planter has 3 pockets, so different plants can be grown at the same time. This kit includes 12 planters – that's room for 36 plants! It works with flowers, herbs, vegetables, and fruit. Think of all the color you can add to your patio!
Do you have vinyl siding? Avoid drilling holes when it comes time to hang décor. Use these no-hole hooks that are made of stainless steel slide. They slide right over your vinyl planks and are easy to remove and move.
Do you have any of the products listed here? How did they work for you? Let us know in the comments!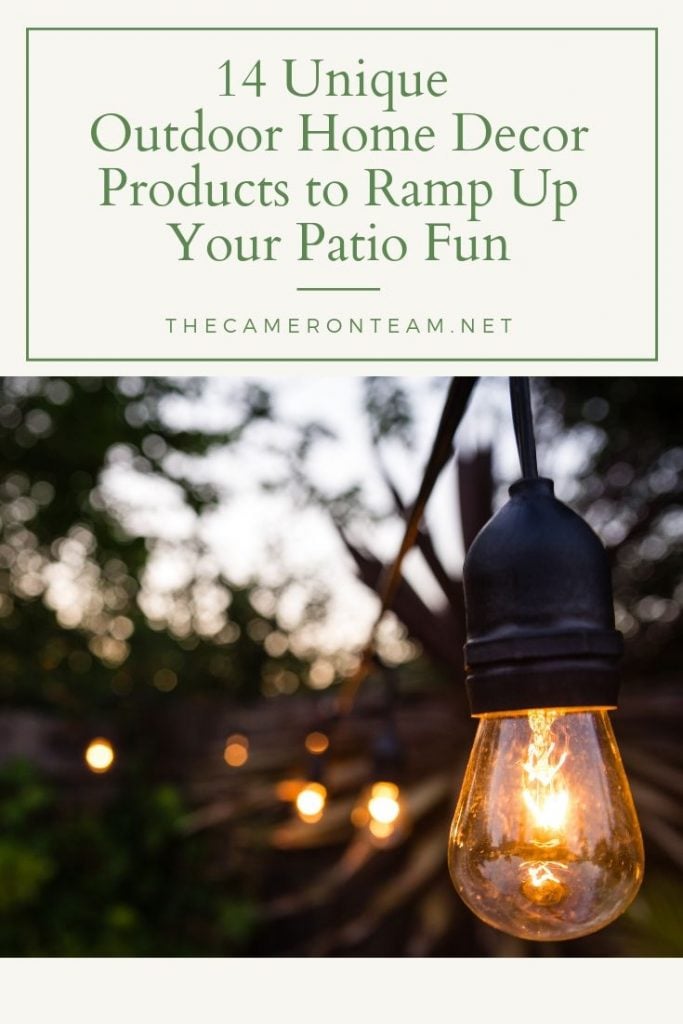 [the_grid name="Homeowner Tips"]