No one can deny that this year has been rough. Between the pandemic, the election, remote learning, protests, wildfires, "murder" hornets, and so many other outliers, it seems that no one has been able to avoid the impacts.
Luckily, humor has proved itself to be a good coping mechanism. That and chocolate.
Every year, my family buys a new ornament for our Christmas tree that represents an event or a new thing we all love. While 2020 has not left us with a wide pool of positive experiences to choose from, it has generated lots of content for humorous ornaments. Here are some of the best ones I found.
1. 2020 is a Dumpster Fire
Can one ornament possibly sum up all of 2020? Erm…yep!
Cloud 9 and Co. somehow makes a dumpster on fire look beautiful. They also offer customization options. Visit their Etsy Shop to see examples.
2. 2020 Toilet Paper Shortage
Who would have thought a national toilet paper shortage could be a thing? Just add it to your list of things to tell the offspring about.
Holiday Shop Co. By PKL is here to help you remember it. They offer 4 different versions of the ornament. Visit their Etsy Shop to see all of them.
3. Toilet Paper Ornament
Following a similar theme to the previous ornament, these little toilet paper ornaments let you gift one of 2020's most prized possessions to a friend without sacrificing your own supply. You can even choose their favorite brand. Visit Party N Wedding Goodies on Etsy to see all the options.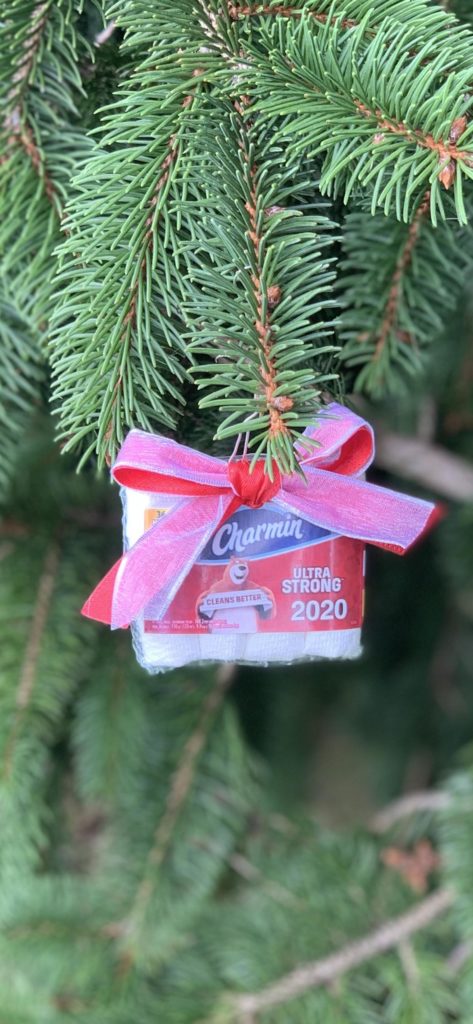 4. Santa Masked
That's right, Santa's traditional uniform gets an upgrade this year. He'll be donning a mask.
Jewel Hitomi captures the moment in a classic way with this resin masked Santa ornament. It's an oh-so-subtle nod to this past year. Visit their Etsy Shop to see more.
5. The Year Everyone's Shitters Were Full
This is the perfect ornament for fans of National Lampoon's Christmas Vacation. It features the infamous RV and "2020 The Year Everyone's Shitters Were Full". Check it out on Yippee Daisy's Etsy Shop.
6. 2020 e-Learning Survivor
Of course, no one is so wide-spread affected as students. Many have had to adapt to online learning, which has exposed technology issues and frustrating learning hurdles.
Commemorate the year for your favorite student(s) with this laptop ornament. Sara Boo Creek Ltd will personalize it with a name or you can leave it blank. Visit her Etsy Shop to see examples.
7. In Case of Emergency, Break Glass
This adorable ornament from Elegant Art By Farnaz instructs the reader "In Case of Emergency Break Glass" and has 3 little rolls of toilet paper on the inside. A silver hammer hangs on the outside.
Don't worry, the ornament is shatterproof. You can see more pictures of it on Etsy.
8. Stink, Stank, Stunk 2020
Even the Grinch thinks 2020 stunk. This embroidered ornament is perfect for his biggest fans. It shows the Grinch's hand dropping a mask with the words "Stink, Stank, Stunk" and "2020". What's cuter than that? See more pictures on Etsy.
9. Ew, 2020
"Schitt's Creek" won 8 Emmys in 2020, setting the record for most wins in a single season for a comedy. Dan Levy, who plays David Rose on "Schitt's Creek", also made People's 2020 "Sexiest Man Alive" list in the "In Quarantine" category. So, an ornament portraying one of his most popular sayings seems very fitting for 2020.
This ornament from Sand And Hands features part of Dan's head with a Santa hat and the saying "Ew, 2020". See more pictures on Etsy.
10. Tiger King, Joe Exotic
If there is a person that represents 2020, it's Joe Exotic, the self-proclaimed Tiger King. He shot to fame when Netflix released a documentary about him at the beginning of lockdown. His incarceration incited a #FreeTigerKing movement, which didn't amount to much, but did incite lots of conversations.
There are some very funny Tiger King ornaments on the market (some not so appropriate for this blog), but none are more classy than this one from Cranky Cakes Shop. Check it out on Etsy.
Which Christmas ornament is your favorite for 2020? Did we miss a good one? Share it in the comments!
[the_grid name="Homeowner Tips"]