When you have an active family, there's nothing better than having a mudroom. It's the perfect place to organize outdoor clothes and gear, and to trap dirt that would otherwise be trailed into the home. Mudrooms can be set up with all kinds of different features depending on your needs, so we've compiled some of our favorite mud rooms to inspire your own mudroom design. Take a look below!
Built-in Cubbies and Cabinets
Give everyone in your home a place to put their "stuff" with built-in cubbies. There are many versions to choose from – some homemade, others that you can purchase online and install – but most have a place to hang a coat and bag, and a shelf for a basket to hold loose items. The cubbies pictured here were a custom design from JDJ Lifestyle Design Remodel for a home in Brookfield that they remodeled. It has drawers and cabinets in addition to the usual cubbies.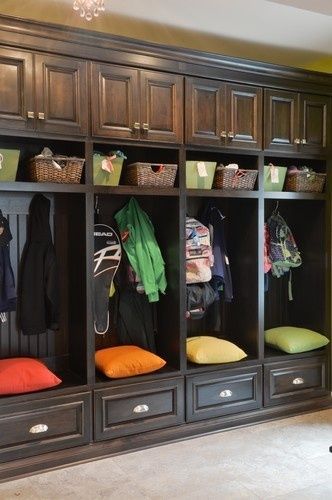 Jaime at That's My Letter was also kind enough to share the plans for this locker and bench setup. You can see schematics and pictures from the assembly on her blog.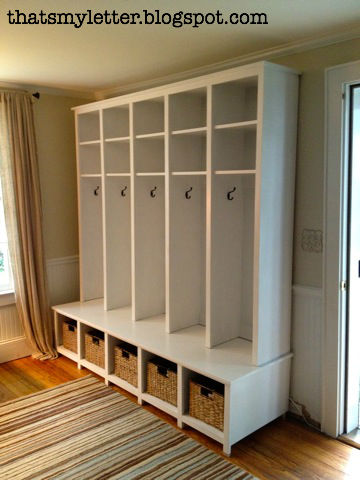 Cubbies and Sink
Have kids that love to play in the dirt? You need a sink for washing hands! The folks at J.S. Brown & Co. designed this mudroom with cubbies and a built-in sink. The kids can peel off their dirty clothes and wash their hands before heading further into the house. It's also convenient if you have pets that you feed in the mudroom.
Dog Washing Station
Are your kids of the four-legged kind? You may want to upgrade that sink to a handy-dandy dog washing station. This half-shower setup shared by Annie at Live Simply is elevated and includes a removable showerhead so you don't have to bend over to wash. The room also has easy-to-clean tile flooring for muddy paws. How neat is that?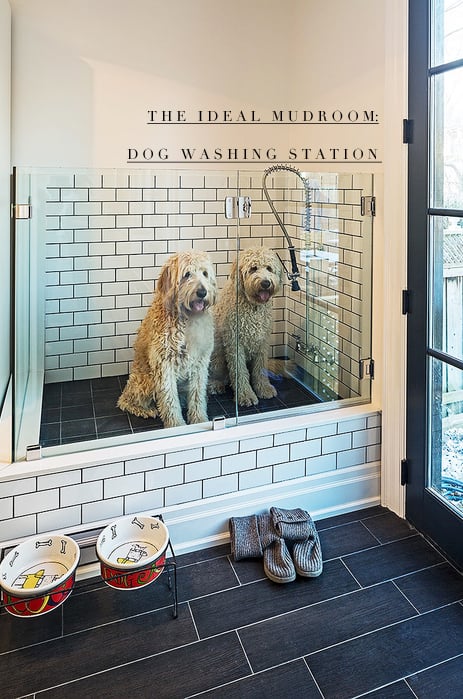 Locker Room Style
Is your home overrun with sports gear? Then, a locker room style mudroom may be the best choice for you. Not only do all the cabinets keep everything looking neat, but they trap loose sticks, pads, uniforms, boogie boards, etc. so they aren't getting scattered around. This one is from the 2011 HGTV Dream Home. Remember it? This home was positioned next to the ski slopes in Vermont, so the locker room style was great for organizing ski gear.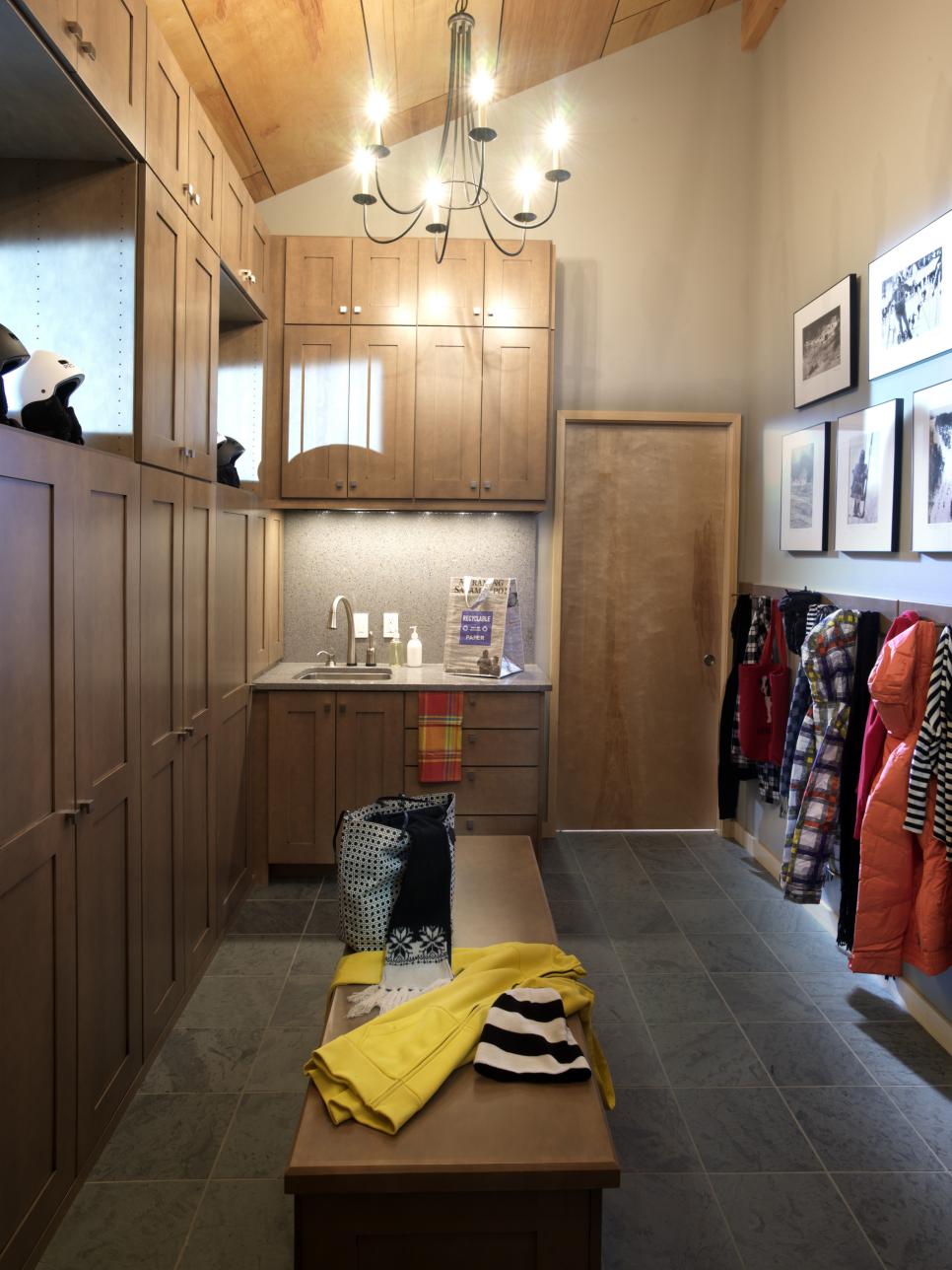 Chalkboard Painted Panels
Do you have a locker room style mudroom? Here's one way you can make it pull double duty. Paint the doors with chalkboard paint and use it to keep your family on track with schedules, chores, to-do lists, and more! This one is courtesy of Brit + Co.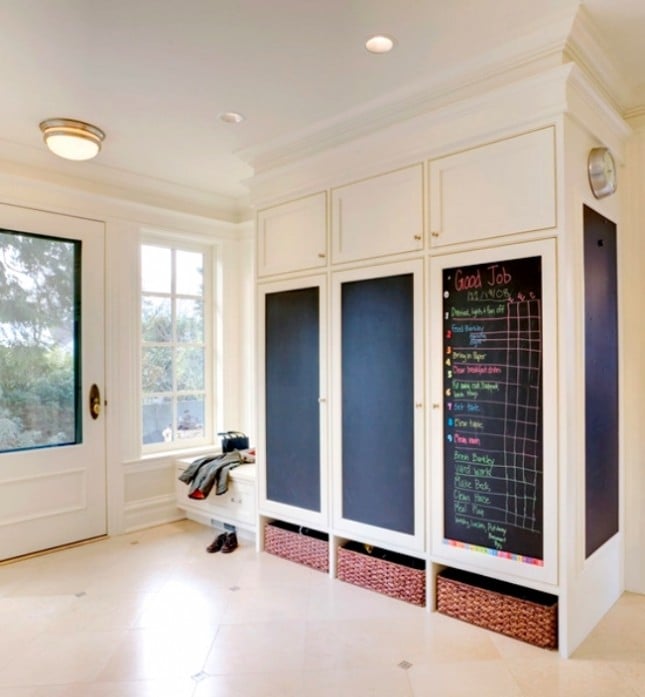 Multi-functional Mudroom        
When your mudroom is technically part of another space, it can be hard to keep it functional. Built-ins, an easy-to-clean floor, and molding can keep the room looking unified while still giving everything an assigned place. This example from Zillow Digs has built-in lockers and drawers, and white hardwood flooring. It's in a shared space sitting right at the home's entrance which is open to the living room. They've also included a desk for taking care of household duties, but all of these elements are tied together with molding, uniform flooring, and similar paint colors.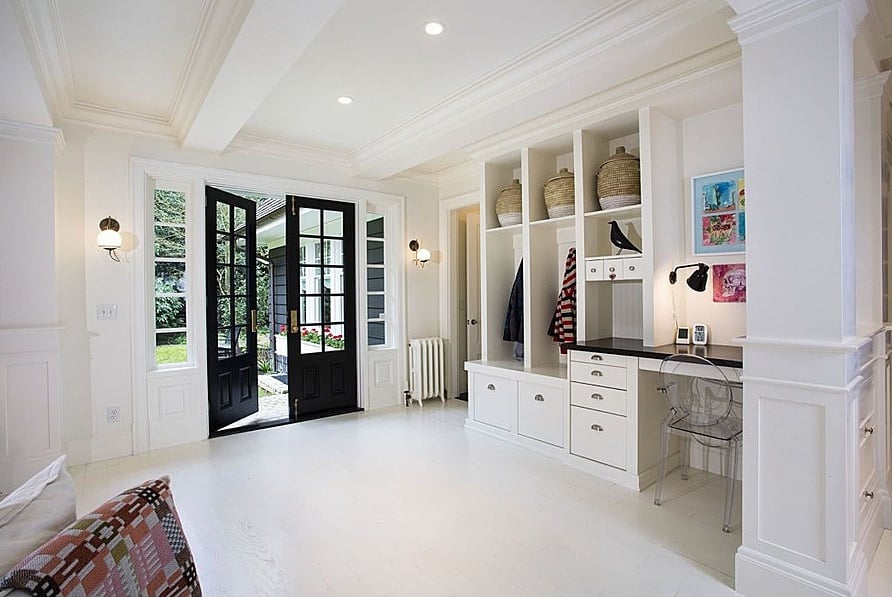 Mudroom and Laundry Room
It's like peanut butter and jelly…milk and cookies…Tom and Jerry…Bert and Ernie…Han Solo and Chewbacca…Some things just go great together, including mudrooms and laundry rooms. Just take a look at this mudroom-laundry room combo from Distinctive Remodeling Solutions (via Houzz). The back entrance opens directly into the room, which has locker style cubbies, a sink, cabinets, and a washer and dryer. Family members can discard dirty clothes into a hamper or directly into the washer as soon as they enter the home. No need to haul them off to another part of the home.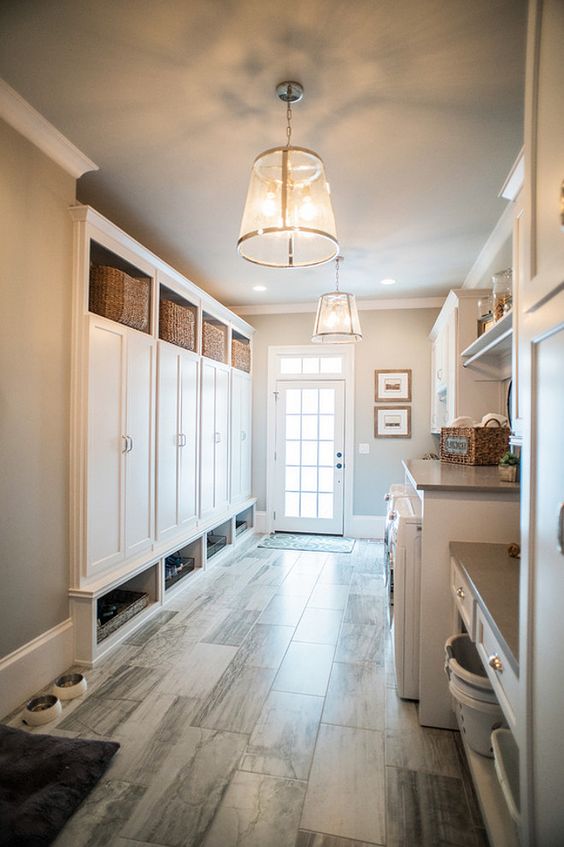 Here's another great example of a combined mudroom and laundry room. This one was shared by Style at Home and is slightly smaller than the last example. White cabinets and shelving help give everything a place while the blue stackables and matching striped rug give the room a punch of color.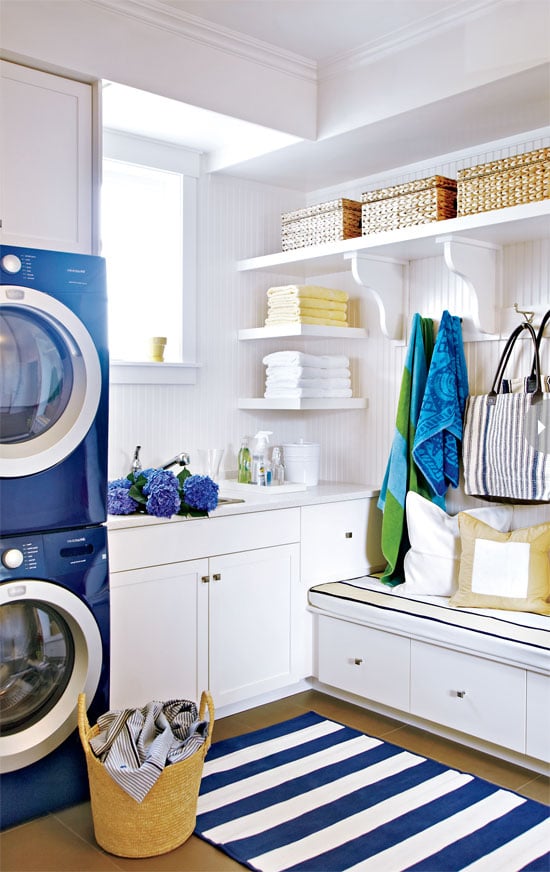 Barn Door
If you have an open floor plan, you may want to section off the mudroom area of your home to cut down on dirt and dust. Traditional doors can take up needed space. Barn doors, on the other hand, sit against the exterior wall making it easier to optimize the wall and floor space inside. Here's a good example from J.S. Brown & Co.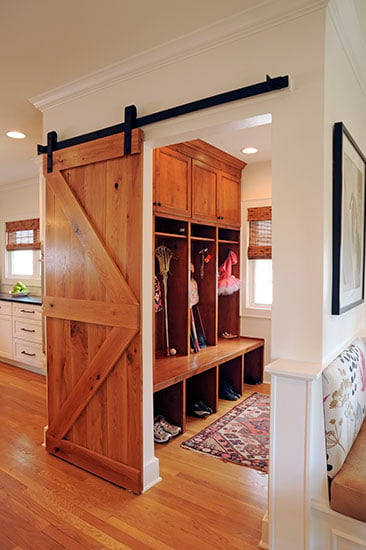 Closet to Mudroom
Want a mudroom, but not sure you can make one fit? Here's one example of how you can incorporate a mudroom into your current home. Megan from TheSchmidtHome.net (shared via In the New House) converted a bi-fold closet into a mini-mudroom with a bench, shelving, and coat hooks. It's the perfect place to sit down and remove her shoes.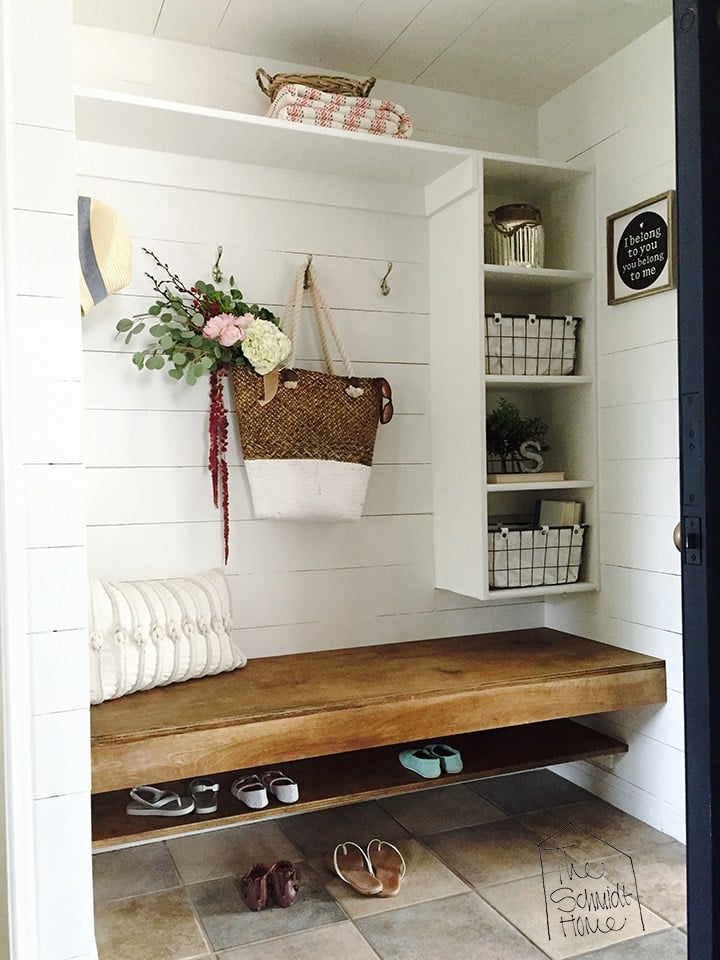 Hidden Shoe Rack
Want to really up your mudroom game? Here's a convenient shoe rack hidden behind the coat rack, perfect for storing away all those off-season shoes that your family isn't wearing.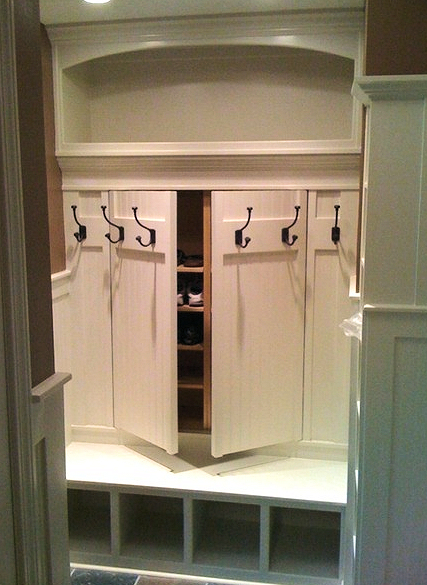 Which of these were your favorite? Any ideas you'll be incorporating into your own home?



[the_grid name="Homeowner Tips"]